[Exton, PA, February 18, 2021—]
90-Minute Video Special Offers "Biblical Wisdom for Troubling Times"
Speaking from the Museum of the Bible in Washington, D.C., surrounded by Biblical artifacts and life-size replicas of ancient Jewish dwellings, renowned Catholic Scripture scholars Jeff Cavins, Dr. Marcellino D'Ambrosio, and Dr. Edward Sri have a message of hope for all believers this Lent: You Are Not Alone.
For Catholics, Ash Wednesday on February 17 marked a painful anniversary: a full liturgical year impacted by the pandemic, featuring previously-unimaginable Church closures and restrictions on access to the sacraments.
In the face of such challenges, Cavins, D'Ambrosio, and Sri proclaim a bold message of God's faithfulness in You Are Not Alone: Biblical Wisdom for Troubling Times. Pulling examples from the Bible, they offer reflections on how to respond to suffering with courage, faithfulness, and spiritual joy.
Facing Difficulties with Inspiration from Scripture
As presenter Jeff Cavins explains, "We're all wondering if life will ever be like it used to be. But as believers we know, we are not alone. God is with us. Others in the past have walked this walk, and we can learn much from them. The three major points in salvation history that we highlight in this program have one thing in common: in each, the people of God walked out of captivity and into freedom despite their circumstances and with God's help we can too."
Fellow presenter Marcellino D'Ambrosio agrees. "Outward problems in society can't take our freedom away. We have a choice in the midst of our troubles, whether they be the pandemic, political issues, financial issues, or anything else. We can choose, like St. Paul imprisoned yet praising God in his chains, to rejoice always, pray constantly, and give thanks in all circumstances. If we do this, we will experience God's freedom, no matter what our situation may be."
The third scholar and presenter Edward Sri explains the rationale behind the timing of the release at the beginning of Lent: "I think the Lord is inviting us to really examine our own hearts. I think when we go through these periods of darkness, periods of challenge, it invites us to look inside our own hearts and see, do we really trust God? What do we value? What matters most in life? I think in the last several months we've all been forced to face those questions."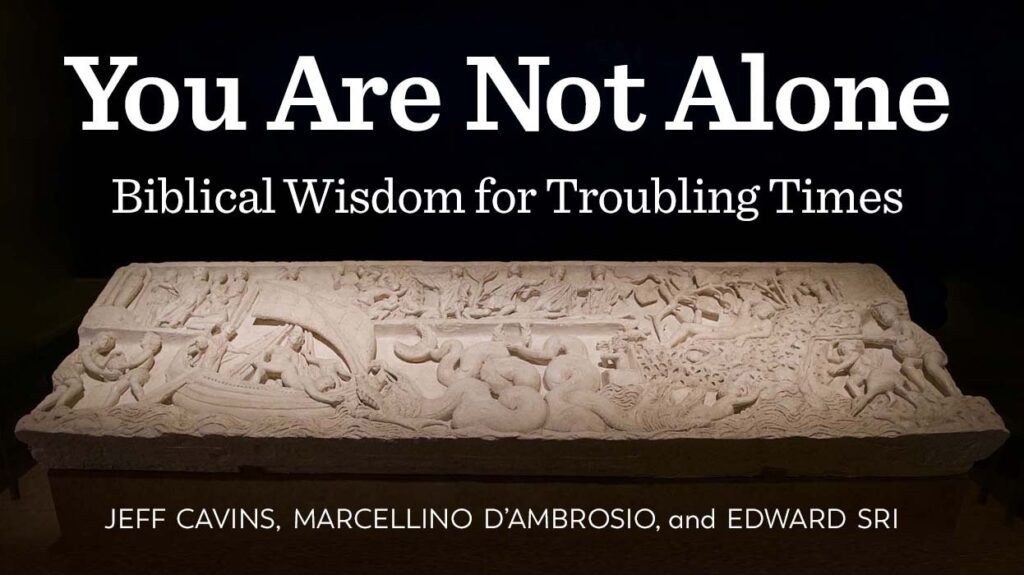 Sri encourages, "God is leading us on a journey this Lent. He is leading us out of our sins, selfishness, fears, and anxieties so that we can experience the full embrace of His love."
A New Video Offering from the Leader in Faith Formation
You Are Not Alone: Biblical Wisdom for Troubling Times is Ascension's first venture into video specials. The company is renowned both for its popular YouTube videos as well as for its award-winning Bible Studies with accompanying video lessons, but never before has Ascension offered a video special designed particularly for "movie night" style viewing at home or in community settings. You Are Not Alone can be viewed as three 30-minute sessions, or as one complete 90-minute experience.
You Are Not Alone is available for purchase for $19.95 on Ascension's website, and is streamed through the company's "Thinkific" video platform.
Fans looking for more from Cavins, D'Ambrosio, and Sri should explore their 2020 blockbuster Bible study Jesus: The Way, the Truth, and the Life. Filmed on-site in the Holy Land, it became one of the best-selling Catholic Bible studies in the nation despite the coronavirus pandemic.
About Ascension
Ascension is the leader in Catholic faith formation and digital content. Over the past 20 years, Ascension has helped to nurture the faith of more than 10 million people in 8,000 parishes through their books, Bibles, faith formation programs, chart-topping podcasts, social media, and the Ascension Presents YouTube channel. The company has 60 employees and is based in Exton, Pennsylvania.
Media Contact
For interviews with Jeff Cavins, Marcellino D'Ambrosio, Edward Sri, or other media inquiries, please contact Lauren Joyce at (484) 876-1400 or newsroom@ascensionpress.com.