[Exton, PA, January 20, 2021—]
New Podcast from Ascension Fulfills the Pope's Call to Celebrate the Word of God All Year Long
When Pope Francis established the upcoming Third Sunday of Ordinary Time as the annual "Sunday of the Word of God" in 2019, he commented his motu propio Aperuit Illis that, "a day devoted to the Bible should not be seen as a yearly event but rather a year-long event."

Fr. Mike Schmitz and Jeff Cavins, voices of the national podcast sensation The Bible in a Year, have created a podcast to do just that.
"I had hoped with this podcast to allow God's eternal Word to shape my own heart and mind, as well as the hearts and minds of anyone who wanted to journey along with me for a year through the Scriptures," explains the Minnesota-based Fr. Mike.
Turns out, many Catholics found this to be an exciting invitation – so much so that the show shot to the #1 position in all categories on the Apple Podcasts chart within 48 hours of its launch, beating out long-standing secular alternatives from The New York Times, NPR, and more. The show sat in the #1 spot for 17 days, and remains in the #2 spot in all categories as of this writing.
Making the Bible Accessible for All of "the Lord's People"
Nearly 7 million downloads and over 9,000 5-star reviews such as "Amazing Blessing!," "Best Part of The Day," "A Respite and a Refuge," and "Life Changing," indicate that the podcast is becoming a powerful part of many Catholics' prayer lives.
In Aperuit Illis, Pope Francis writes that, "the Bible cannot be just the heritage of some, much less a collection of books for the benefit of a privileged few. […] The Bible is the book of the Lord's people."
The Bible in a Year Podcast shares that mission: to make it possible for each and every one of the "Lord's people" to read the entire Bible, a daunting feat many Catholics have never managed on their own. And according to the tidal wave of reviews and customer feedback flooding social media, it's working.
In the review entitled, "I've Wanted to Read the Bible for So Long," fan "A_Catholic" effuses that, "I've wanted to read the BIble for so long and have started, but not finished. This is such a great way for me to get to the end with wonderful commentary from Fr. Mike, too! Thank you, Fr. Mike! I'm praying for you and the whole community!"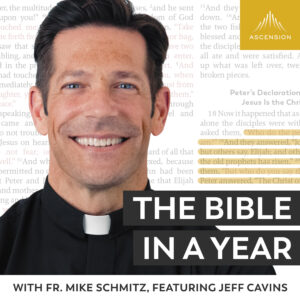 Jeff Cavins' Bible Timeline is the Backbone of The Bible in a Year's Innovative Reading Plan
Making the complex texts of Scriptures accessible to all believers is a passion that Fr. Mike holds in common with his regular special guest on the show, acclaimed Scripture scholar Jeff Cavins. Cavins is the creator of The Great Adventure ® Bible Timeline Learning System ®, a suite of Bible studies and resources which have enabled generations of Catholics to see the "one central story of Salvation History" woven throughout God's Word.
"I believe that God draws people to himself through his word," comments Cavins. "Perhaps with all that's going on in the world right now, we are feeling that pull towards God more than ever. There are two things that people will find when they understand Salvation History. First they will come to know the heart of their Heavenly Father and second, they will discover his amazing plan for their life. God reveals himself in words and deeds which results in a solid foundation on which to trust. Trust is what is lacking at this time and trust is what people will experience when they receive God's word as a letter from a Father to his children."
Apple podcast reviewer "Leawoodkansas" attests that The Bible in a Year is accomplishing this goal already, only 3 weeks into its launch. In the review, "Finally a Bible Study I can Understand!," Leawoodkansas comments, "As a lifelong Catholic, I have always been hesitant to dive into the Bible. However, the way [Bible in a Year] presents it brings it down to my level. It's truly remarkable!"
About Fr. Mike Schmitz
Fr. Mike Schmitz serves as Director of Youth and Young Adult Ministry for the Diocese of Duluth and as Chaplain for the Newman Catholic Campus Ministry at the University of Minnesota–Duluth. He is well known for his popular YouTube videos, released weekly on the Ascension Presents YouTube channel, and he also streams Sunday Mass to a worldwide audience. In addition to hosting the definitive Catholic Bible in a Year podcast, he is also a presenter in Ascension's Chosen, Altaration, and The 99 programs, as well as a contributing author to Pray, Decide, and Don't Worry: Five Steps to Discerning God's Will.
About Jeff Cavins
Jeff Cavins, a featured guest throughout The Bible in a Year, is the creator of the celebrated Great Adventure ® Bible Timeline study series which has empowered generations of Catholics to understand the Bible's central "story of salvation." Jeff has been a leading Catholic evangelist, author, and podcast host for decades, and is particularly well known having hosted EWTN's "Life on the Rock" TV show for six years. Jeff's best-selling books and Bible studies include The Bible Timeline: The Story of Salvation, Unlocking the Mystery of the Bible, Jesus: The Way, the Truth, and the Life, The Activated Disciple, and Walking with God: A Journey Through the Bible.
About Ascension
Ascension is a multimedia network and the leader in Catholic faith formation and digital content. Over the past 20 years, Ascension has helped nurture the faith of over 10 million people in over 8,000 parishes through more than 50 unique faith formation programs and the Ascension Presents media and YouTube platforms.
Media Contact
Lauren Joyce at (484) 876-1400 or newsroom@ascensionpress.com