[Exton, PA, March 22, 2023—]
Gift and Grit, the newest book from popular Catholic presenters Andrew and Sarah Swafford, inspires Catholics (especially young adults) to seek faith, virtue, and transformation in their lives and relationships.
In their first co-authored book from Ascension, Gift and Grit: How Heroic Virtue Can Change Your Life and Relationships, Andrew and Sarah Swafford distill what they have learned about virtue in relationships from more than 15 years of young adult ministry. They use this knowledge to compile practical tips for young adult Catholics to unlock the power of heroic virtue and cultivate meaning and connection in all of life's relationships.
Following the success of Emotional Virtue: A Guide to Drama-Free Relationships, Sarah Swafford's first book on this topic published in 2015, Gift and Grit seeks to build on the theme and provide young adult Catholics with a guide to finding meaning in day-to-day life, building faithful community with Christ-centered friends, and remaining committed to a life-changing relationship with God.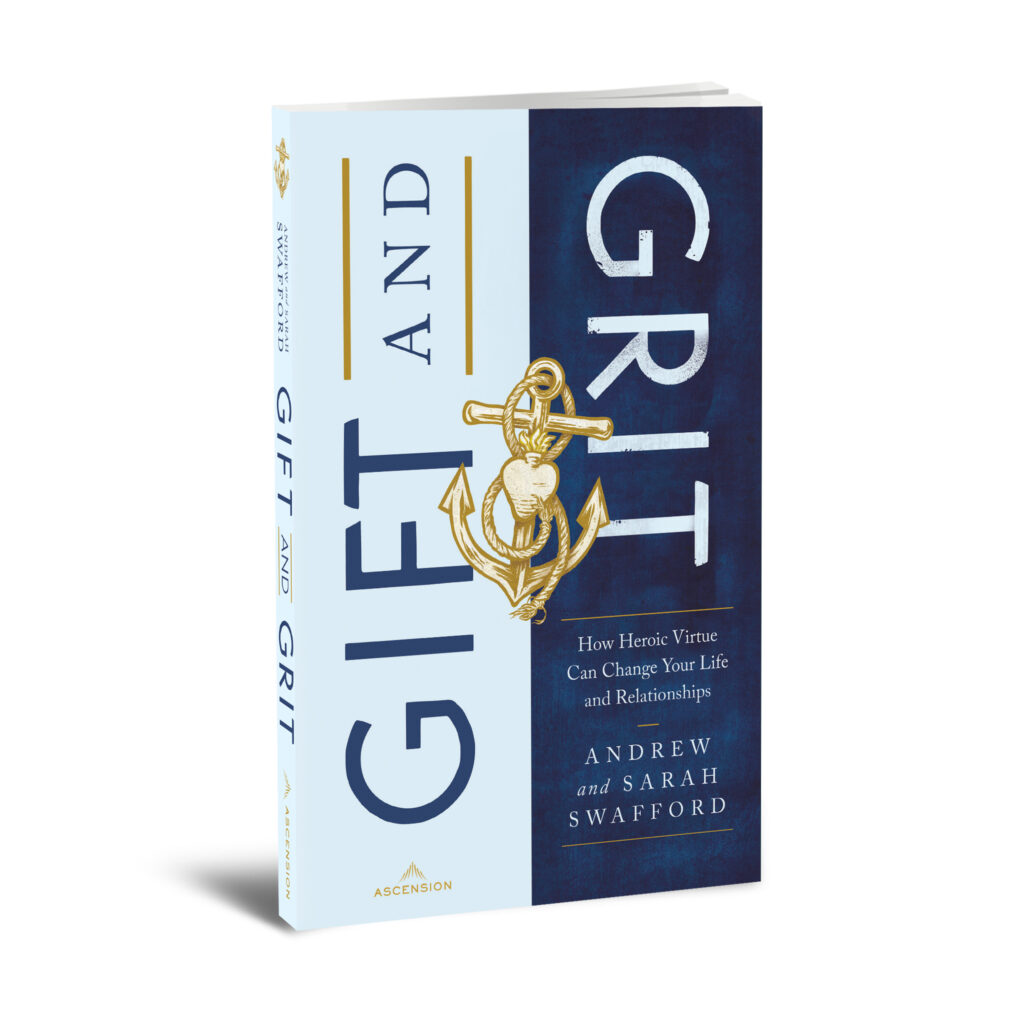 "We have been walking with college students and young adults for over fifteen years, and we absolutely love it!" write the Swaffords. "We wrote this book because we care. We are deeply passionate about the tremendous battles that young adults face today and all that they are up against—which seems only to get more difficult with each passing year."
With stories from the authors' own lives, discussion questions, and practical advice on friendship, dating relationships, healing from past wounds, and faith-filled living, Gift and Grit is an invaluable resource for young adults, individually or in a small group, looking to reclaim joy, conviction, and purpose in their lives and relationships.
Gift and Grit is available for preorder at www.AscensionPress.com/GiftandGrit.
Praise for Gift and Grit
Fr. John Burns, a Catholic speaker and professor of theology at Sacred Heart Seminary and School of Theology, comments:
"Andrew and Sarah have crafted a brilliant gift in this long-awaited book. Their voices blend with a relentless willingness to invite people into their lives and run with them toward Christ. Drawing deeply upon years of collective experience, they confront all of the questions you have, and some you didn't even know to ask, about life and love in Christ. Up front and honest, passionate and full of zeal, I don't know of a more engaging resource for navigating the pathways of friendship, relationships, and community, all in pursuit of heaven."
Jason Evert, a Catholic author and founder of Totus Tuus Press and the Chastity Project, comments:
"In Gift and Grit, Andrew and Sarah Swafford reveal how the exercise of heroic virtue can infuse your life, friendships, and relationships with renewed purpose and purity. Their authentic and relatable witness provides a perfect blend of wisdom that's practical and realistic but challenging and uncompromising."
Sr. Miriam James Heidland, SOLT, a Catholic speaker and co-host of the Abiding Together podcast, writes:
"Gift and Grit is an excellent and practical guide to receiving the happiness, meaning, and truth that most profoundly echo in every human heart. Andrew and Sarah gift the reader with refreshing, honest, vulnerable, and timeless wisdom that can be applied in your life today. You will read this book and ponder your own heart as you experience the fire of desire to live your life running toward the Lord, bringing as many people with you as you can."
Emily Wilson Hussem, a Catholic author and speaker, offers her endorsement:
"In Gift and Grit, Andrew and Sarah provide a beautiful, necessary, and practical roadmap for all young adults desiring a life of abundance. Young adults can often be an overlooked or forgotten segment of our church, so this book will be a fantastic resource to serve those seeking spiritual enrichment in such an important season of life."
About the Authors
Sarah Swafford is the founder of Emotional Virtue Ministries. She speaks internationally on a variety of topics, including faith, relationships, and interior confidence. Engaging audiences of all ages, Sarah shares her message at school assemblies, retreats, rallies, parishes, and conferences around the world, including FOCUS and Steubenville Conferences in the United States and Canada.
Dr. Andrew Swafford is a popular author and national speaker on Scripture and Catholic theology and a professor of theology at Benedictine College in Atchison, Kansas. Together with Dr. Marcellino D'Ambrosio, he is co-author of What We Believe: The Beauty of the Catholic Faith and co-host of Ascension's video series under the same title, filmed at 30 holy sites in Rome. Dr. Swafford served as a general editor and contributor to Ascension's best-selling Great Adventure Catholic Bible.
The Swaffords reside in Atchison, Kansas with their 5 children: Thomas, Fulton, Cate, Kolbe, and John Paul.
See the full bio for Sarah Swafford here.
See the full bio for Dr. Andrew Swafford here.
About Ascension
Ascension is a multimedia network and the leader in Catholic faith formation and digital content. Over the past 25 years, Ascension has helped nurture the faith of more than 10 million Catholics through award-winning books, the chart-topping Bible in a Year and Catechism in a Year podcasts, more than 50 unique faith formation programs, and Ascension Presents, which hosts the largest Catholic YouTube channel in English.
Media Contact
For media inquiries, call 1-800-376-0520 or email Newsroom@AscensionPress.com.