[Exton, PA, February 10, 2023—]
A Miracle for Micah shows children the importance of the sacrament of Reconciliation with the story of Micah, a basket of fish, and the healing power of Jesus.
Ascension Kids has announced a new title from celebrated children's author Claudia Cangilla McAdam: A Miracle for Micah. In this imaginative fictional story, young Micah turns away from his bad habit of stealing when he experiences the gift of Jesus' forgiveness. Subsequently, Micah gets to witness the Lord miraculously multiply his humble gifts of loaves and fish.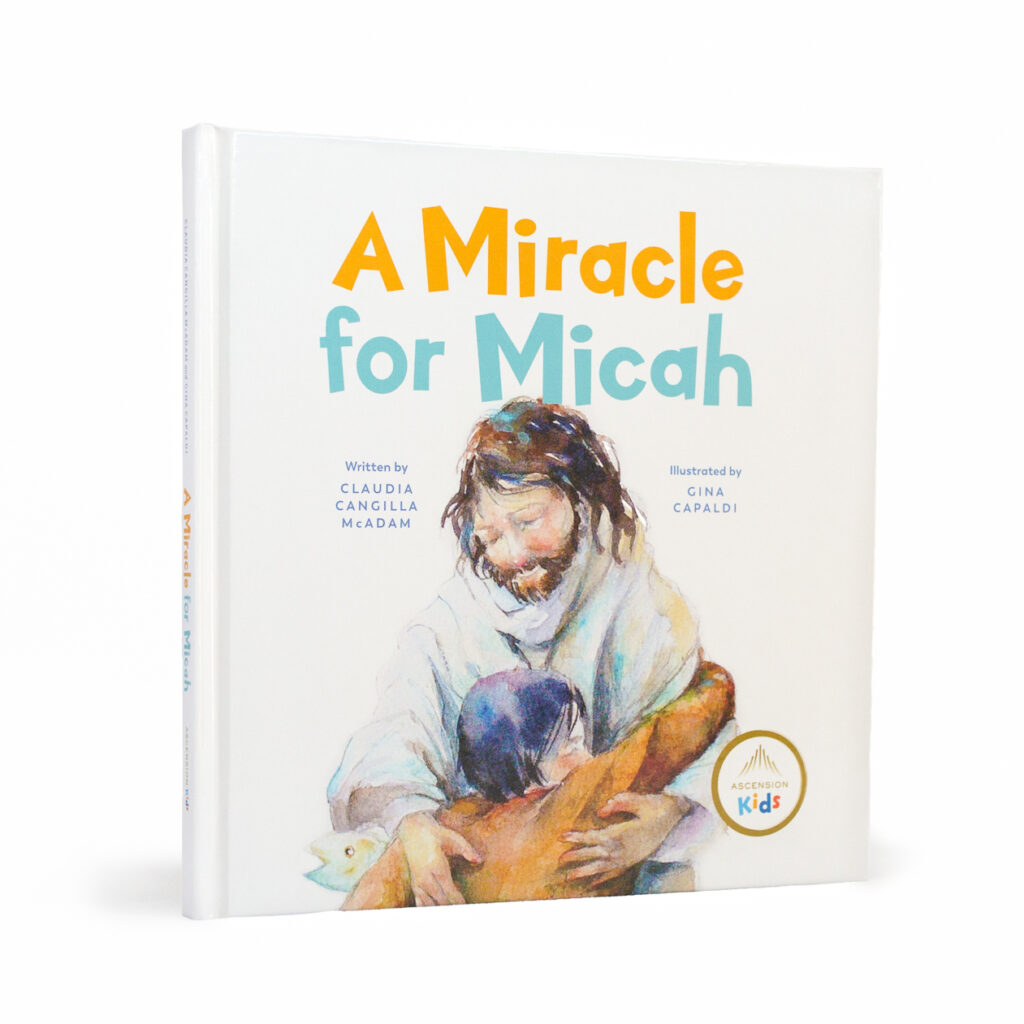 A Miracle for Micah complements the 2022 Ascension Kids title from McAdam The Real Presence, in which two fictional young cousins are able to see the actions of Jesus at the Last Supper with their own eyes. Where The Real Presence helps little Catholic readers understand the Biblical roots of the Eucharist, A Miracle for Micah illuminates Gospel themes of forgiveness and reconciliation.
A Miracle for Micah's captivating story and endearing illustrations help young Catholics aged 4–8 understand how Jesus meets us with his mercy and transforms "littleness" into great things.
"My hope is that my young readers see in Micah a child very much like themselves—curious, tempted, ingenious, and sinful," says McAdam. "I pray that kids come away from this story with a love for the Lord Jesus, who is compassionate and merciful and who heals bodies and souls."
Written by McAdam and illustrated by Gina Capaldi, the illustrator of The Real Presence, this new sacramental resource for kids helps parents prepare them for their First Reconciliation. A Miracle for Micah has received imprimatur approval.
A Miracle for Micah is now available at www.AscensionPress.com/Micah.
Praise for A Miracle for Micah
Edward Sri, a theologian, speaker, and the author of A Biblical Walk through the Mass, shares:
"Jesus' powerful healings are beautiful pearls strung together in a most satisfying tale about a boy who is transformed from a life of thievery to one of penance and pardon. Heart-warming and realistic, children will connect with Micah and the miracles all around him."
Kathleen T. Pelley, a children's author and the Journey with Story podcast host, writes:
"McAdam has a gift for making Scripture come alive to young readers, and in her latest picture book, A Miracle for Micah, she succeeds yet again by inviting children to witness, through the eyes of a young boy, Micah, the healing and transformative power of Jesus' love and forgiveness. 
This captivating tale with its lively text and vibrant illustrations could almost be described as a minor miracle in itself, because not only does it transport us into a long-ago Capernaum to encounter the Christ who challenges, heals, comforts, and uplifts, but after the last page is turned, it also transplants us firmly back into the present dailiness of life, fully charged with the fire of the Holy Spirit…"
Katie Warner, a best-selling children's book author, also writes:
"When I see Claudia Cangilla McAdam's name on the cover, I can always count on a beautiful story. Readers will enjoy this moving tale of God's merciful love and forgiveness. A Miracle for Micah is a perfect read in preparation for the sacrament of Reconciliation or anytime."
About Claudia Cangilla McAdam
Claudia Cangilla McAdam is an award-winning author who has a heart for faith-based stories that invite young readers to place themselves within the narratives about Jesus. During her years of study at the Denver Catholic Biblical School and her graduate studies with the Augustine Institute, Claudia was humbled by what she didn't know about Scripture and the Catholic Faith despite being a lifelong Catholic. She is eager to share the treasures of what she learned with young readers.
See the full bio for Claudia Cangilla McAdam here.
About Ascension
Ascension is a multimedia network and the leader in Catholic faith formation and digital content. Over the past 25 years, Ascension has helped nurture the faith of more than 10 million Catholics through award-winning books, the chart-topping Bible in a Year and Catechism in a Year podcasts, more than 50 unique faith formation programs, and Ascension Presents, which hosts the largest Catholic YouTube channel in English.
Media Contact
For media inquiries, contact (800) 376-0520 or Newsroom@AscensionPress.com.