[West Chester, PA, April 11, 2022—]
Best-selling Great Adventure brand gets ready for high school with energetic new video lessons from "The Bible Geek," Mark Hart
As part of its mission to help every Catholic in America read and understand the Bible, Ascension, the leader in faith formation, has announced a vibrant new addition to its suite of resources: Venture: The Bible Timeline for High School.
Venture, which features a complete overview of the story of salvation in 8 video lessons, is an overhaul of Ascension's previous title from 2007, T3: The Teen Timeline. With new teachings from author and presenter Mark Hart, animations from BARITUS Catholic Illustration, an updated student workbook, and guest appearances from popular youth evangelists Fr. Josh Johnson, Mari Pablo, Chika Anyanwu, Taylor Tripodi, Andrew Swafford, Paul J. Kim, and Bob Rice, Venture offers a completely new introduction to the story of salvation for today's youth.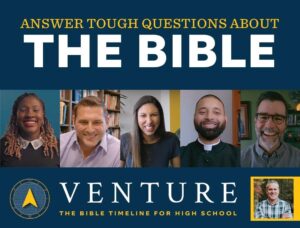 Venture: The Bible Timeline for High School empowers catechists, parents, youth ministers, and faith formation leaders to:
Give teens perfect clarity about the "big picture" of salvation history
Guide teens as they personally dive into the Scriptures and learn to find key verses and passages for themselves
Model the Catholic prayer tradition of lectio divina in praying with Scripture
Feel confident in answering tough questions raised by Bible study. Bonus videos in Venture cover FAQs like "Why is there so much violence in the Bible?"
Share dynamic, energetic videos that bring the key stories of Scripture to life
Venture creator Mark Hart, also known as "The Bible Geek," knows a thing or two about teenagers. As the chief innovation officer at Life Teen International, Hart's full-time concern has been bringing the Gospel to youth for nearly three decades. One of his specialties in that area has been helping teens make sense of God's Word in the context of the Catholic Church.
According to Mark Hart, understanding the Bible is essential for teenagers looking to embrace the Catholic Faith: "When teens come to know the story of the Bible – the story of salvation – they come to know their place in that story. If teens want to understand themselves, they have to be introduced to the One who created them – the Author of the story."
The Starter Pack for Venture: The Bible Timeline for High School includes:
Leader's Guide
Student Workbook
DVD Set (8 lessons with 3 short video segments each)
The Bible Timeline Chart for Teens with all-new illustrations from BARITUS
The Bible Timeline Bookmark
Flexible session lengths with 40-, 60-, 90-, and 120-minute options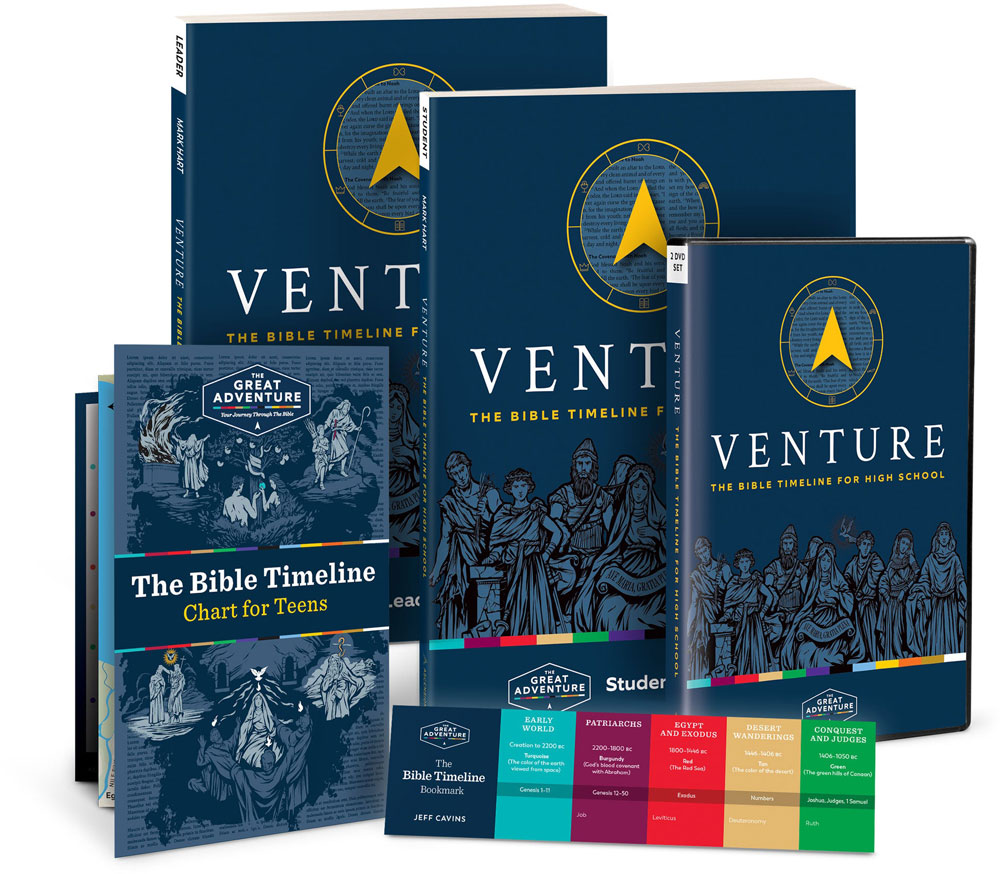 Online editions of the program videos, Leader's Guide, and Student Workbook are also available through Ascension's Thinkific learning platform.
Venture is designed for use in parish, school, family, and ministry settings.
About Mark Hart
Mark Hart serves as chief innovation officer for Life Teen International. A graduate of the University of Notre Dame and a twenty-seven year veteran of youth ministry, Mark is the best-selling author of over twenty books, a daily radio host on SiriusXM, and an award-winning writer and producer. One of the most sought-after speakers serving in the Catholic Church today, Mark's humor and passion for Scripture are known around the world.
His multiple video series with Ascension – Venture, Encounter, Altaration, and The 99 – have helped millions of Catholics, young and old, begin to read and study the Bible and engage with the Catholic Faith in exciting and relevant new ways. A master catechist, Mark also serves as a book editor, speaking coach, publishing and marketing consultant, and a research fellow for the St. Paul Center for Biblical Theology.
Mark and his wife, Melanie, live in Phoenix, Arizona, with their three daughters – Hope, Trinity, and Faith – and one son, Josiah.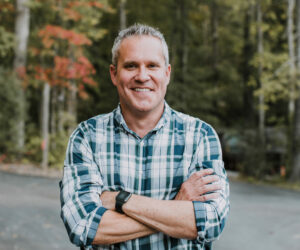 About Ascension
Ascension is a multimedia network and the leader in Catholic faith formation. Over the past 20 years, Ascension has helped nurture the faith of over ten million Catholics through award-winning books, the chart-topping Bible in a Year podcast, more than fifty unique faith formation programs, and Ascension Presents, which hosts the largest Catholic YouTube channel in English.
Media Contact
For author interviews or other media inquiries, please contact Lauren Joyce at (484) 876-1400 or Newsroom@AscensionPress.com.