[Exton, PA, December 15, 2021—]
Ascension and Juan Diego Network unite to bring the most successful Catholic podcast in the English language to a Spanish audience in 2022
The Bible in a Year podcast will have an all-new version in Spanish as of January 1, 2022. Since the original English-language edition, The Bible in a Year (with Fr. Mike Schmitz)™ featuring Jeff Cavins, has accumulated over 160 million downloads and 3.7 billion listening minutes in its first year, many are eager to see the reception of the new Spanish-language show.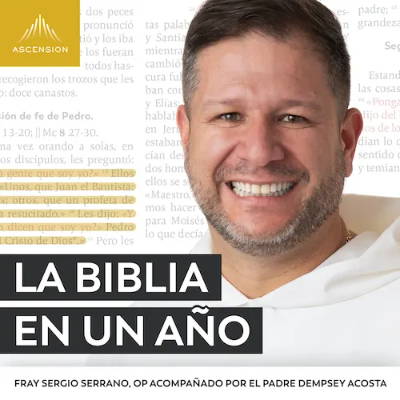 La Biblia en un Año will use the same format as its English-language predecessor, in which popular YouTube priest Fr. Mike Schmitz read every verse of the entire Catholic Bible in 365 days using a reading plan based on Jeff Cavins' trusted Great Adventure Bible Timeline® Learning System.
Native Spanish-speaking priests, Fr. Sergio Serrano, OP, and Fr. Dempsey Acosta, will take the place of the English-language hosts and follow an identical list of Scripture readings as they journey throughout the year.
Fr. Sergio, a Dominican priest currently serving as the Director of the Hispanic Apostolate for the Archdiocese of New Orleans, will host each daily episode and narrate all of the Biblical readings. Fr. Dempsey, Associate Professor of Theology at The University of St. Thomas in Houston, will appear as a featured guest on the 16 "special" episodes marking key points in the Biblical journey. Full biographical information for both priests is listed below.
The collaboration between Ascension, the leader in faith formation, and the Juan Diego Network in the production of La Biblia en un Año will enable Spanish-speaking Catholics to "read" through the entire Bible in a podcast format, from the comfort of their phone, tablet, or computer, in only 25 minutes a day. The podcast and its acclaimed reading plan are completely free in both English and Spanish.
New Podcast will be a Stunning Free Resource for Mixed-Language Parishes, Schools
Because La Biblia en un Año podcast will follow the exact same reading plan as The Bible in a Year podcast in English, mixed-language English-Spanish parishes and schools will be able to read the Bible together during 2022. With a large percentage of Catholics in the United States preferring to speak and pray in Spanish, this new two-language podcast offering represents a stunning free resource for Catholic parishes and schools. This resource will also be a boon for bishops, priests, parish leaders, and catechists who might not speak Spanish personally, but who want a trusted free resource to place into the hands of their Spanish-speaking constituents.
The fact that this podcast will guide listeners through every single word of the Bible makes it an extraordinary gift to Spanish-language Catholics who may have been excluded from other English-language programs and catechetical opportunities.
Fr. Serrano and Fr. Acosta Share Their Hopes for the Podcast
Podcast daily host Fr. Sergio Serrano explains his vision for the new show: "As Spanish speakers, we are continually drawn to the stories that our grandparents and family pass down to us orally. Now we can listen every day to the great story that God wants to tell us; the beautiful story that will captivate us. Many of us have waited a long time for it to be told in this way. This is not just any story, but the story of our salvation, and through hearing it we will be nourishing our spiritual lives."
For his part, Fr. Dempsey Acosta shares that, "Many people have told me that reading the Bible 'cover to cover' is very difficult; the great majority have explained that it's not necessarily the readings themselves, but that many times they can't find the context or the logic of the passages. You have to know the history of ancient Israel and early Christianity to be able to put what you're reading in chronological order. This is not an easy task for someone who works and has many daily obligations."
Fr. Acosta continues: "'Faith comes from what is heard' (Romans 10:17), and with La Biblia en un Año, the reader becomes a hearer of the living Word of God which educates and nurtures one's spiritual life. In this sense, the podcast is not only a historical organization of the Bible in its presentation, but also a proclamation of the Divine Word throughout the history of humanity. In this proclamation, each listener participates in the listening of the story which God always speaks to human beings out of love."
For his part, José Manuel De Urquidi, founder of the Juan Diego Network, shares that, thanks to this first major Ascension project for the digital world in Spanish, new horizons will be opened: "This is a great opportunity for Hispanics around the world. From the hands of experts, but in a very simple and personal format, listeners will be able to rediscover the living Word of God that has acted not only in history, but continues to work in the hearts of people and in the world today. Let us take advantage of this opportunity and become part of this revolution of the Word of God!"
The reading plan for La Biblia en un Año is now available at www.AscensionPress.com/LaBiblia
Subscribe to the podcast in Spotify, Apple Podcasts, YouTube, or on any podcast platform.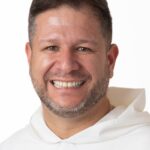 About Fr. Sergio Serrano, OP
Fr. Sergio Serrano is a member of the Dominican Province of St. Martín de Porres, which serves the Church in the south of the United States. Fr. Serrano took his religious vows as a Dominican in 2003 and was ordained a priest in Dallas, Texas in 2007. He has been a parochial vicar at the Dominican parish of St. Dominic Guzmán in New Orleans, Louisiana as well as the pastor of the historic church of St. Dominic Guzmán in Guayaquil, Ecuador. Today Fr. Serrano is the parish administrator of St. Francis Xavier parish as well as the director of the Center of Jesus the Lord in New Orleans. Additionally, he serves as the director of the Hispanic Apostolate for the Archdiocese of New Orleans, as a lecturer for the Congar Institute, and is a doctoral candidate in Pastoral Ministry at the University of Barry in Miami, Florida.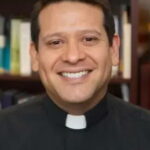 About Fr. Dempsey Acosta
Fr. Dempsey Acosta is an adjunct professor of Biblical Theology and holds the Miller Endowed Chair of Catholic Studies at the University of St. Thomas in Houston, Texas. After earning degrees in Philosophy and Education from the Universidad Católica Cecilio Acosta en Maracaibo, Venezuela, he obtained a Bachelor of Theology (S.T.B.) from the Pontifical Gregorian University in Rome, a degree in Biblical Sciences and Biblical Languages (S.S.L.) from the Pontifical Biblicum Institute in Rome, and a Doctorate in Sacred Theology: Biblical Studies (S.T.D.) from the Pontifical Gregorian University.
Since 2008, Fr. Dempsey has been a peritus (theological advisor) and consultant of the American Bible Society in the Presidential Liaison and Roman Catholic Ministry Department. He has also served as an expert consultant for Biblical translations with the United States Conference of Catholic Bishops.
In his 20 years of priestly ministry, Fr. Dempsey has always balanced his academic life with his pastoral work, assisting in the apostolic life and catechesis of Spanish-speakers in the United States.
About Ascension
Ascension is the leader in Catholic faith formation and digital content. Over the past 20 years, Ascension has helped nurture the faith of more than 10 million people in 8,000 parishes through their books, Bibles, faith formation programs, chart-topping podcasts, social media, and the Ascension Presents Youtube channel. The company has 60 employees and is based in Exton, Pennsylvania.
About the Juan Diego Network
The Juan Diego Network (JDN) is an organization focused on the evangelization, formation, and entertainment of Latinos throughout the world. JDN carries out
its mission through podcasts and through the Catholic Virtual Symposium, which offers support and consultation on communication and digital marketing strategies for United States dioceses, organizations, news outlets, and schools who seek to attract and connect with Latinos.
Podcast Link
www.AscensionPress.com/LaBiblia
Media Contact