[Exton, PA, July 17, 2023—]
Dr. Edward Sri, Fr. Jacques Philippe, Fr. Josh Johnson, and Over a Dozen Saints Inspire Catholics with a Practical Guidance on Prayer in New Program.
In the new adult faith formation program, When You Pray: A Clear Path to a Deeper Relationship with God, renowned theologian and author Dr. Edward Sri shows Catholics how to cultivate a fruitful life of prayer that leads to an ever-deeper encounter with God.
When You Pray guides participants on a journey of prayer that leads to deep transformation in their souls. Spiritual inspiration and wisdom is pulled from the life and writings of over a dozen Catholic saints, including:
St. Teresa of Calcutta (Mother Teresa)
St. Faustina
St. John Paul II
St. Augustine
St. Benedict
St. Catherine of Siena
St. Thomas Aquinas
St. Bernard of Clairvaux
St. Ignatius of Loyola
St. John of the Cross
St. Teresa of Avila
St. Thérèse of Lisieux
St. John Henry Newman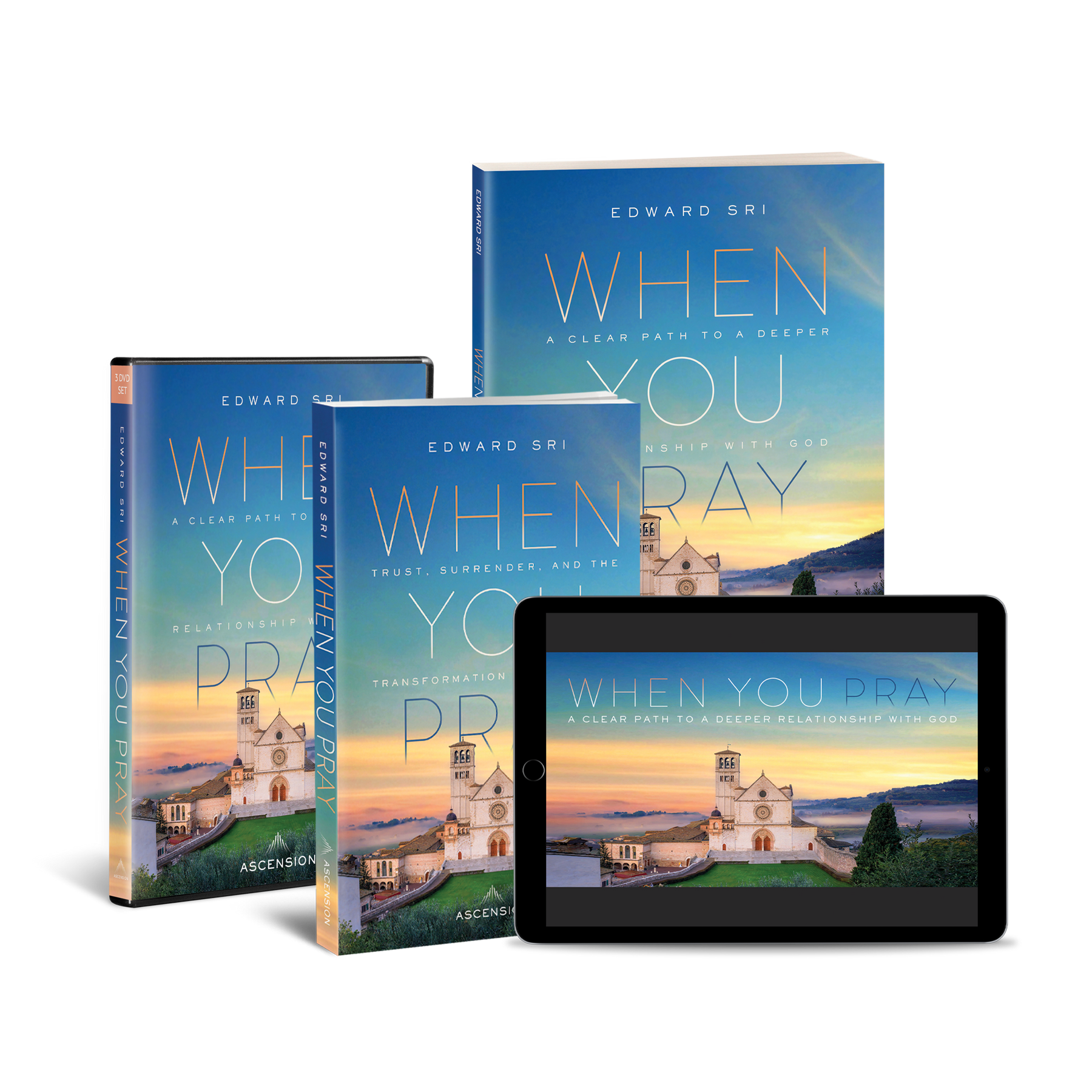 When You Pray addresses the common struggles in prayer that even many saints experienced: distraction, dryness, not feeling close to God, and finding time for prayer consistently each day. Catholics looking for a clear understanding of how to grow in their prayer life will absolutely love this practical, informative guide offered in Dr. Sri's simple, approachable language.
A Sure Guide to a Deeper Prayer Life
Dr. Sri explains the idea behind the program: "When I was out giving talks, people would often approach me asking for help growing in prayer. They know prayer is important, but it can be difficult sometimes: our minds wander, we're restless and we don't always feel close to God. We want to trust God more with our lives, follow his will, but we are not sure how. The saints have much wisdom to offer with all this, so this program has been on my heart in a very special way."
In addition to the writings of the Saints, When You Pray also features the spiritual advice of trusted Catholic voices like Fr. Jacques Philippe, Fr. Josh Johnson, Fr. Gregory Pine, OP, Sister Josephine Garrett, CSFN, Fr. Donald Haggerty, and Sister Maris Stella, SOL.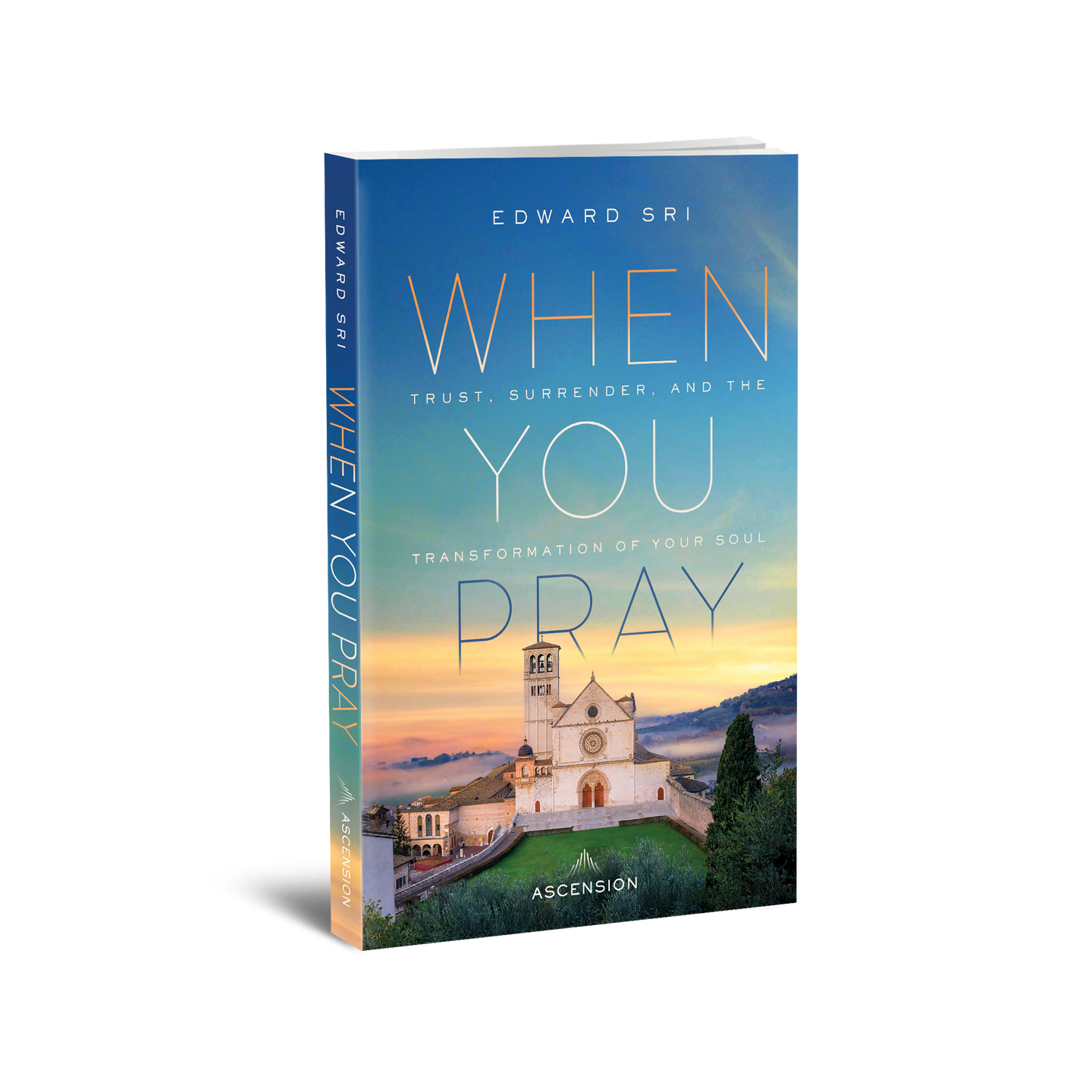 Perfect for Small Group or Individual Study
The videos for When You Pray were filmed in locations important to the lives of the saintly prayer exemplars covered in the study: Siena for St. Catherine, Assisi for Ss. Francis and Clare, Subiaco for Ss. Benedict, and Rome for St. Pope John Paul II.
Designed to run for 7 weeks of study, When You Pray can be enjoyed by both individuals and faith fellowship groups. The study offers practical tips on how to surrender more fully to God's will and how to overcome weaknesses and sins. When You Pray blends together beautiful videos, workbook reflection questions, suggested discussion questions, and an accompanying book written by Dr. Sri. Included in the program is a 30 Day Prayer Challenge created by Dr. Sri which will help participants form the habit of daily prayer which is so vital to spiritual progress.
About the Author:
Dr. Edward Sri is a theologian, well-known Catholic speaker, and author of many best-selling books. His work with Ascension includes The Good, the Messy, and the Beautiful: The Joys and Struggles of Real Married Life, an award-winning book which he co-wrote with his wife, Beth. Dr. Sri's other study programs with Ascension include A Biblical Walk Through the Mass, No Greater Love: A Biblical Walk Through Christ's Passion and Mary: A Biblical Walk with the Blessed Mother.
About Ascension:
Ascension is a multimedia network and the leader in Catholic faith formation and digital content. Over the past 25 years, Ascension has helped to nurture the faith of more than 10 million Catholics through award-winning books, the chart-topping Bible in a Year and Catechism in a Year podcasts, more than 50 unique faith formation programs, and Ascension Presents, which hosts the largest Catholic YouTube channel in English.