[Exton, PA, May 16, 2023—]
Ascension author Shannon Whitmore draws from personal experience and St. John Paul II's Theology of the Body to help women overcome body image struggles and embrace their identity as God's masterpiece.
In her first Ascension book, See Yourself as God Does: Understanding Holy Body Image Through Catholic Scripture, author Shannon Whitmore presents advice from Scripture and St. John Paul II for women who struggle to believe they have been made in the image of God. With a compassionate tone and practical exercises from therapist Julie Matsen, PhD, this book offers a powerful guide for Catholic women to discover the truth about holy body image.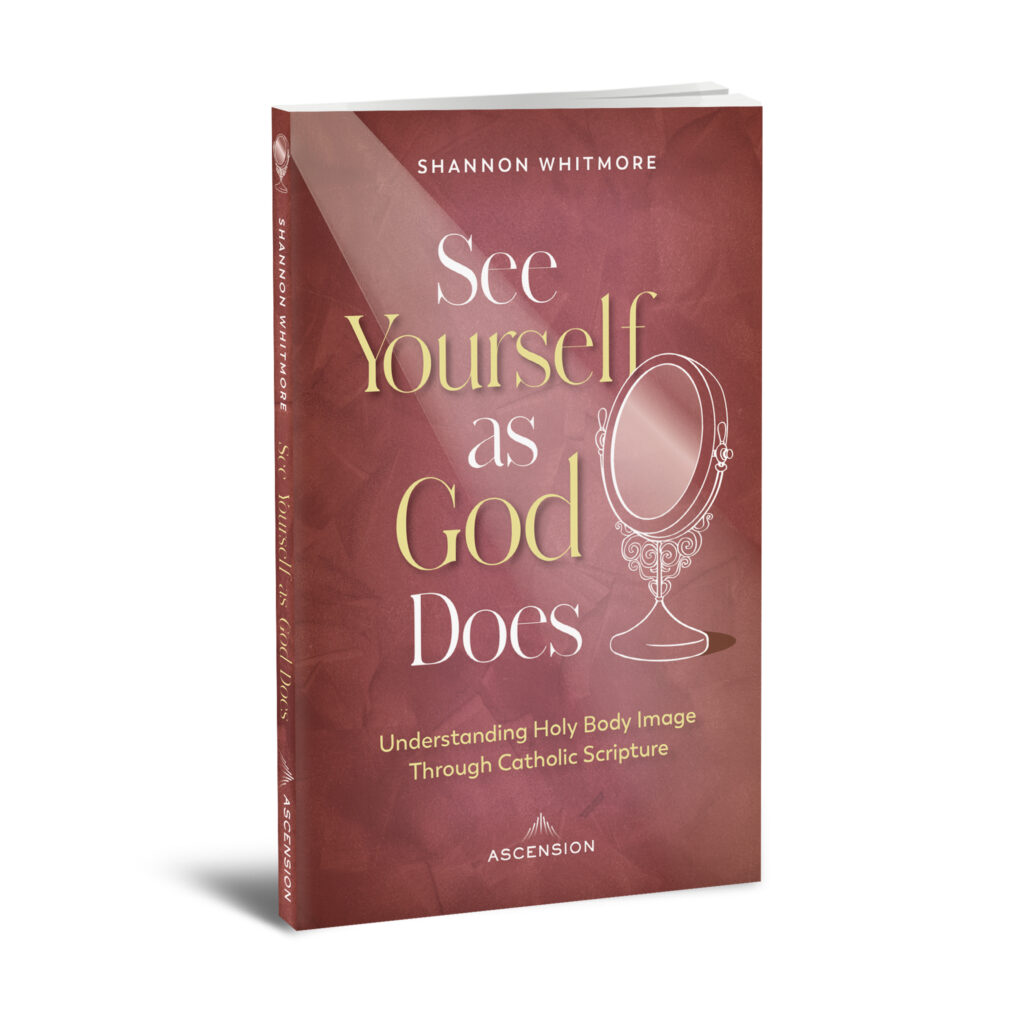 "I struggled for a long time to understand the relationship between my faith, my inaccurate view of perfection and beauty, and my discomfort with my body," writes Whitmore. "This is the book I longed for in my own journey to healing."
Featuring thought-provoking questions and activities, See Yourself as God Does offers a compassionate and practical approach to help Catholic women embrace a healthy and holy body image. It is a powerful tool for personal growth and transformation in light of the truth and beauty of Catholic teaching about the gift of our physical bodies.
See Yourself as God Does is available for preorder at www.AscensionPress.com/SeeYourselfAsGodDoes.
Praise for See Yourself as God Does
Stacey Sumereau, host of the Called and Caffeinated podcast, shares:
"Finally: a Catholic book on body image that really 'goes there!' In a culture that gets body confidence wrong, See Yourself as God Does gets it right. If you have ever struggled with feeling like you're too much and not enough, Shannon Whitmore's powerful testimony and her journey of uncovering the truth about the beauty of our human bodies will heal you and fill you with true confidence. Like Shannon, I struggled with body image issues and an eating disorder for nearly a decade, and I found myself nodding and saying 'yes!' to Shannon's experience on every page. If you or someone you love is struggling with an eating disorder, I cannot recommend this book highly enough as a resource for making true, lasting peace with the body you've been given."
Arleen Spenceley, author of Chastity Is for Lovers: Single, Happy, and (Still) a Virgin, writes:
"In this book, Shannon Whitmore vulnerably shares how she learned to love the body God gave her, and she does it in a way that'll equip you to love yours, too. Whitmore's wisdom will change your relationship with your body, your relationship with God, and the depth of your awareness of a truth too often covered up in our culture: You are enough."
Mary Stanford, author of The Obedience Paradox: Finding True Freedom in Marriage, shares:
"The modern world tends to misunderstand the body in two ways: reducing it to a mere instrument devoid of meaning on the one hand, or alternatively, as that reality that encompasses a person's entire identity.  Through an engaging witness, Shannon Whitmore shares her own struggle with body image, and exposes the errors of these attitudes through the refreshing light of Scripture and Catholic wisdom.  Presenting the body as a tremendous gift designed to express love and enable communion, Whitmore urges women to recognize and revere its life-giving potential, and to resist the lies of the devil which tell her that they are unworthy of love."
Andrew Whitmore, author of Saintly Habits: Aquinas' 7 Simple Strategies You Can Use to Grow in Virtue, comments:
"Shannon Whitmore's See Yourself as God Does is a compelling testimony and guide to recovering a proper body image, but also so much more. From theological treatments of Scripture to catechesis on the Sacraments to reflections on anthropology, this book has something for everyone. Not only will this book benefit those who struggle with or know someone who struggles with body image, but I highly recommend that every boyfriend, husband, and father read this book for a deeper understanding of the aspirations, struggles, and experiences of women. This book has the profound potential to bring healing to individuals, relationships, and families alike."
Cristina D'Averso-Collins, director of the Office of Family Life for the Diocese of Metuchen and director of Catholic Campus Ministry at Monmouth University, writes:
"With great humility and sincerity, Whitmore shares the truth of God's vision for the human body through the lens of her own healing journey. Her exploration of a wide subset of topics within the theme of body image as well as her clear and candid writing style make this book applicable to those in various stages of life from the young adult struggling with bodily changes for the first time to the mother endeavoring to accept her postpartum body."
About the Author
Shannon Whitmore is a homeschooling mom with a passion for sharing the truth of God's love for the human person and the beauty of the vocation to marriage and family life. She graduated from the Pontifical John Paul II Institute for Studies on Marriage and the Family in 2015 with a master's degree in theology. After more than a decade of working in religious education, youth ministry, and sacramental preparation, Shannon finally realized her dream of becoming a full-time stay-at-home mom and a part-time writer. She lives in northwestern Virginia with her husband, Andrew, and their two children, John and Felicity.
See the full bio for Shannon Whitmore here.
About Ascension
Ascension is a multimedia network and the leader in Catholic faith formation and digital content. Over the past 25 years, Ascension has helped nurture the faith of more than 10 million Catholics through award-winning books, the chart-topping Bible in a Year and Catechism in a Year podcasts, more than 50 unique faith formation programs, and Ascension Presents, which hosts the largest Catholic YouTube channel in English.
Media Contact
For media inquiries, call 1-800-376-0520 or email Newsroom@AscensionPress.com.