[Exton, PA, October 29, 2020—]
The new Spanish Edition of the #1-ranked The Great Adventure Catholic Bible will equip Spanish-speaking Catholics to grow in their faith and pray with God's Word.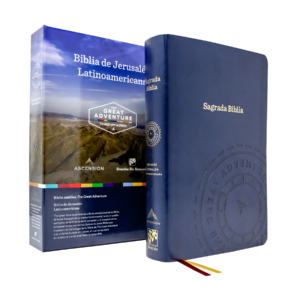 The Spanish-speaking community in the United States has been growing exponentially in recent decades, with 18% of the total U.S. population now identifying themselves as Hispanic, including over 40% of U.S. Catholics and 54% of Catholics born since 1982. Even though many Hispanic Catholics speak English, many continue to feel most spiritually comfortable when worshipping and praying in Spanish. For this reason, Ascension is proud to offer the newly-released The Great Adventure Catholic Bible, Spanish Edition, which brings the popular The Bible Timeline™ Learning System to the Spanish-speaking Catholic community.
"We are thrilled to present The Great Adventure Catholic Bible to our Catholic brothers and sisters who pray and worship in Spanish," explains Jeff Cavins, creator of The Bible Timeline Learning System and a general editor of The Great Adventure Catholic Bible. "We have seen The Bible Timeline help millions of English-speaking believers grow closer to God through Sacred Scripture. We are overjoyed to provide the same opportunity for our Spanish-speaking communities."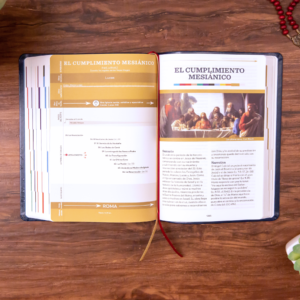 The Great Adventure Catholic Bible became the #1-selling Catholic Bible in the United States because of its innovative Bible Timeline Learning System. The new Spanish Edition includes the same Bible Timeline which made its English predecessor such a success, in this case paired with the Biblia de Jerusalén Latinoamericana Spanish translation.
The Great Adventure Catholic Bible, Spanish Edition features:
Color-coding for each book of the Bible according to the 12 time periods of The Bible Timeline
12 Bible Timeline charts with key dates, characters, events, and geographical notes
19 articles written by top Bible scholars
70 "Key Event" call-outs which provide a brief description of the milestones in the biblical narrative
16 full-color maps
The words of Jesus printed in red
Two ribbon markers
An Imprimatur and Nihil Obstat
Serving the Hispanic Catholic Community
Luis J. Medina is the General Manager of Small Group and Consumer Products at Ascension and is also himself a Spanish-speaking Catholic. He knows from experience: "This Bible fills a huge need for our Hispanic community. It's a Spanish Bible that teaches readers how to read the Bible. So many Hispanic Catholics come to the U.S. and lose their faith, in part because they cannot find resources to support their faith in their native tongue. This Bible is a beautiful, essential resource for Hispanic Catholic families who are seeking to grow in faith themselves, and to pass that faith along to their children in an American culture."
The Great Adventure Catholic Bible, Spanish Edition is far from Ascension's first offering for Spanish-speaking believers. The publisher has previously produced Bible studies, Confirmation curriculum, marriage prep resources, and Theology of the Body programming in Spanish-language versions to accompany their English-language counterparts. This complementarity is essential for many schools, parishes, and dioceses which serve both English and Spanish-language communities simultaneously.

"We know that Hispanic Catholics bring great faith and vitality to the Catholic Church in America," says Ascension's founder and president, Matthew Pinto. "It is our great joy to make this life-changing Bible available to our Spanish-speaking brothers and sisters in Christ."
Explore the Bible:
The Great Adventure Bible, Spanish Edition
The Great Adventure Bible, English Edition

---
About Ascension
Ascension is a multimedia network and the leader in Catholic faith formation and digital content. Over the past 20 years, Ascension has helped nurture the faith of over 10 million people in over 8,000 parishes through more than 50 unique faith formation programs and the Ascension Presents media and YouTube platforms.
Media Contact
For author interviews or other media inquiries, please contact Lauren Joyce at (484) 876-1400 or newsroom@ascensionpress.com.