[Exton, PA, October 12, 2020—]
A New Line from the Leader in Catholic Faith Formation for Ages Toddler – 12
RELEASING TODAY is Ascension's new line: Ascension Kids. The highly-anticipated line from the leader in Catholic faith formation is designed for ages toddler through 12. The books, Bibles, curricula, and gifts included in the new brand will help children dive deeply into the beauty and truth of the Catholic Faith. "Ascension Kids" products feature engaging illustrations, age-appropriate activities, and kid-friendly explanations of Catholic stories and teachings.
"Kids represent 25% of the Catholic Church in the United States today, and 100% of the Church of tomorrow," explains Matthew Pinto, Founder and President of Ascension. "Therefore, few things are more important to Catholic parents, pastoral leaders and religious educators than the faithful transmission of our faith to the next generation. To this end, we wanted to create an array of new resources that would unpack and display the richness and beauty of our Catholic faith."
"Catholic parents, teachers, and mentors have a sacred calling from God to bring up their children in the faith," adds Luis J. Medina, General Manager of Small Group and Consumer Products at Ascension. "Ascension is proud to come alongside families, parishes, and school communities to support them in this critical mission. The resources we are offering with the new Ascension Kids brand are faithfully Catholic, beautifully designed, and just plain fun!"
Previously this year, Ascension released several Bible story books and activity books for children, products which will now be included in the Ascension Kids line. The announcement of Ascension Kids brand solidifies the company's position in the Catholic children's market, and portends many future releases, including God's Plan in Scripture (GPS) and the My First Interactive Mass Book which both became available for pre-order today (details below). A children's book about Christmas is due to be released in upcoming weeks.
New Items Available as Part of the Brand Launch: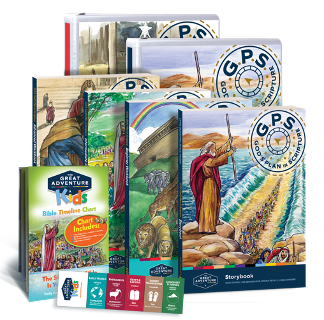 God's Plan in Scripture (The Bible Timeline adapted for Kids) – New 2020 Edition – Pre-orders available today!
Authors: Emily Cavins, Lisa Bromschwig, Regina Neville, Linda Wandrei
About: The best-selling The Great Adventure Storybook for kids has received a rich update under the new program title: "God's Plan for Scripture (GPS)" The new 2020 edition includes the God's Plan for Scripture Teacher's Guide, Storybook, print versions of the 3 accompanying workbooks (beginner, intermediate, advanced), and God's Plan in Scripture Plays for children. This supplemental program helps students, children, and their families learn the Bible together using the same color-coding and chronological approach as the adult Great Adventure Bible Timeline.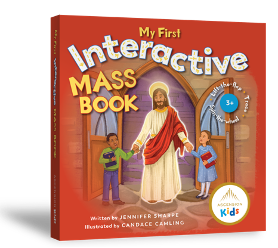 Author: Jennifer Sharpe; Illustrated by Candace Camling
About: This book has one goal in mind: to help children grow closer to Jesus in the Holy Eucharist. The prayers and hands-on activities seek to engage each child at his or her level in all that is happening during the Mass. The book has interactive features to keep little hands busy like flaps to lift, wheels to turn, and tracks to trace. The text itself helps each child follow along with the prayers of the Mass and understand what each prayer means. The book is also available in Spanish.
---
About Ascension
Ascension is a multimedia network and the world leader in the creation and distribution of Catholic faith formation programs and digital content. Over the past 20 years, Ascension has helped nurture the faith of over 10,000,000 people in over 9,500 U.S. parishes through over 50 of its unique Catholic faith formation programs. In 2020, Ascension took home nine Telly Awards for their video content, and their TGA Bible is currently the best-reviewed Catholic Bible on Amazon. Sign up to receive Ascension's media updates via text by texting "Catholic" to 33-777
Media Contact
For interviews with the Founder and President of Ascension, Matthew Pinto, regarding Ascension Kids, or for other media inquiries, contact Laura Orrico, President of Laura Orrico Public Relations, LLC at lauraorrico@gmail.com | 872-216-3781
Ascension Links
Website: www.ascensionpress.com/
Ascension Kids: www.ascensionpress.com/pages/kids
Media Hub: www.media.ascensionpress.com
Facebook: www.facebook.com/AscensionPress
Twitter: www.twitter.com/AscensionPress
Instagram: www.instagram.com/catholicfaithformation/
YouTube: www.youtube.com/ascensionpresents