[Exton, PA, February 9, 2021—]
Former COO is New Owner, President, and CEO
Matthew Pinto, Founder and President of Ascension, announced today the sale of the company to Chief Operating Officer, Jonathan Strate, who has become the company's new Owner, President, and Chief Executive Officer.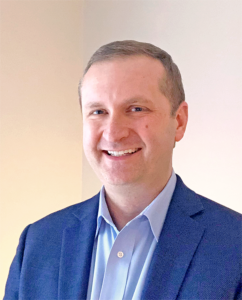 "It has been an extraordinary gift to be able to do the work of evangelization and catechesis as a layman for these 22 years, alongside such talented and committed staff and authors," Pinto comments. "But I have decided that this is the time for me to step down. Ascension has navigated beautifully through the challenges of the past year, boasts a strong leadership team, and is poised for future growth with a brimming pipeline of great Catholic resources and programs already in progress."
Pinto will remain available to Ascension as an advisor to management, ensuring a smooth transition.
New Owner, President, and CEO Jonathan Strate came to Ascension in 2014 as the company's Director of Technology and was promoted to Chief Operating Officer in 2017. Pinto speaks warmly of Strate's talent and track record.
"Jon possesses that rare combination of being both steady and measured, as well as forward-thinking and bold," Pinto shares. "He sees the great apostolic need in the culture and approaches opportunities with both prudence and prayer. He really is the ideal leader for this next phase of Ascension's growth and mission."
Looking to the future, Strate believes that Ascension will play a key role in assisting parishes and dioceses both in the current pandemic situation, and beyond.
"There are about 100 million baptized Catholics in America," says Strate. "Only about 15 million were going to weekly Mass before COVID. And of those weekly attendees, only around 1.5 million were actively engaged at their parish. Ascension is committed to engaging Catholics of all levels of faith practice and to helping our pastors refill their churches, both now and after the pandemic."
Company History
Originally branded as Ascension Press, the company was founded in 1998, with the release of Pinto's book Did Adam and Eve Have Belly Buttons? The company went on to publish The Bible Timeline® Learning System and The Great Adventure® Bible Study Program with Jeff Cavins, several Theology of the Body resources with Christopher West, and the award-winning Chosen: Your Journey Toward Confirmation program with Chris Stefanick.
In 2015, Ascension expanded its reach into digital media, launching what has become the second-largest Catholic YouTube channel in English: Ascension Presents. Ascension's full complement of free media offerings include podcasts, videos, and articles from leading evangelists like Fr. Mike Schmitz, Fr. Josh Johnson, and Jeff Cavins, with cumulative views and listens totaling in the hundreds of millions.
Today, Ascension leads the Catholic market with products like The Great Adventure® Catholic Bible, the #1-selling and best-rated Catholic Bible on Amazon, dozens of award-winning books and small group studies for Catholics, the Ascension Kids children's line, and chart-topping digital media offerings such as The Bible in a Year Podcast (with Fr. Mike Schmitz), featuring Jeff Cavins, which became the #1 podcast on Apple in all categories after its January 2021 launch.
About Ascension
Ascension is the leader in Catholic faith formation and digital content. Over the past 20 years, Ascension has helped to nurture the faith of more than 10 million people in 8,000 parishes through their books, Bibles, faith formation programs, chart-topping podcasts, social media, and the Ascension Presents YouTube channel. The company has 60 employees and is based in Exton, Pennsylvania.
Media Contact
For interviews with Jonathan Strate or other media inquiries, please contact Lauren Joyce at (484) 876-1400 or newsroom@ascensionpress.com.