[Exton, PA, December 17, 2020—]
The new podcast from Ascension will walk listeners through the entire Catholic Bible in 365 daily episodes, providing commentary, reflection, and prayer along the way.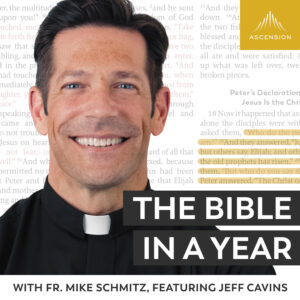 For Catholics looking to strengthen their faith in 2021, YouTube's favorite priest has a New Year's suggestion: read the Bible in a year!
Fr. Mike Schmitz's new podcast with Ascension is set to premiere on January 1, 2021, and will help Catholics accomplish this challenging goal. The Bible in a Year (with Fr. Mike Schmitz) will guide Catholics through the full text of Scripture, using Ascension's acclaimed Bible Timeline® Learning System to structure each episode.
The venture is a passion project from the heart of one of America's most prolific evangelists.
Fr. Mike explains: "A while back, I had this longing placed on my heart to help Catholics encounter God's Word in a deeper and more consistent way. I thought, 'what if someone could just click "play" and allow the Word of God to wash over them—allow the Word of God to shape their lens, the lens through which they look at their entire world?'"

The Story Behind the Podcast
In choosing a framework for organizing the 73 books of Scripture, Fr. Mike turned to the Bible study system that changed his own relationship with God's Word: Jeff Cavins' celebrated Great Adventure® Bible Timeline. "We have this phenomenal resource in Jeff Cavins' Great Adventure Bible Timeline," comments Fr. Mike. "Jeff Cavins unpacks the story of salvation—the story of God's love for his people. We're basing our reading plan on The Great Adventure Bible Timeline because in my life, The Bible Timeline is probably the most significant Bible study that I've ever been a part of."
The team at Ascension has been working hard to make Fr. Mike's dream for this new podcast a reality. The challenges of 2020 have only intensified the demand for engaging Catholic media that can be accessed anywhere—giving Catholics a meaningful connection to God whether they find themselves back to work, still in lockdown, or cut off from the sacraments.
"The Bible in a Year (with Fr. Mike Schmitz) gives Catholics the opportunity to experience the transformative power of God's Word in their daily life," comments Alejandra Garcia-Alayon, Ascension podcast producer. "It is our hope that this podcast will help Catholics discover the richness of the Bible, find peace in God's Word, and encounter God himself more deeply with each episode."
To "get ready" for the show, listeners should sign up for the free Bible in a Year Reading Plan to be sent to their email and "subscribe" to The Bible in a Year (with Fr. Mike Schmitz) podcast on Apple Podcasts, Spotify, or their favorite podcast app. Pre-launch bonus episodes are already available, and daily episodes will begin to drop on January 1, 2021.
About Fr. Mike Schmitz:
Fr. Mike Schmitz serves as Director of Youth and Young Adult Ministry for the Diocese of Duluth and as Chaplain for the Newman Catholic Campus Ministry at the University of Minnesota–Duluth. He is well known for his popular YouTube videos, released weekly on the Ascension Presents YouTube channel, and he also streams Sunday Mass to a worldwide audience. In addition to hosting the definitive Catholic Bible in a Year podcast, he is also a presenter in Ascension's Chosen, Altaration, and The 99 programs, as well as a contributing author to Pray, Decide, and Don't Worry: Five Steps to Discerning God's Will.
About Jeff Cavins
Jeff Cavins, a featured guest throughout The Bible in a Year, is the creator of the celebrated Great Adventure ® Bible Timeline study series which has empowered generations of Catholics to understand the Bible's central "story of salvation." Jeff has been a leading Catholic evangelist, author, and podcast host for decades, and is particularly well known having hosted EWTN's "Life on the Rock" TV show for six years. Jeff's best-selling books and Bible studies include The Bible Timeline: The Story of Salvation, Unlocking the Mystery of the Bible, Jesus: The Way, the Truth, and the Life, The Activated Disciple, and Walking with God: A Journey Through the Bible.
About Ascension
Ascension is a multimedia network and the leader in Catholic faith formation and digital content. Over the past 20 years, Ascension has helped nurture the faith of over 10 million people in over 8,000 parishes through more than 50 unique faith formation programs and the Ascension Presents media and YouTube platforms.

Media Contact
For media inquiries, contact Lauren Joyce at (484) 876-1400 or newsroom@ascensionpress.com