[Exton, PA, May 26, 2021—] Undaunted by the challenges of the 2020 production season, Ascension brought home 8 Telly Awards this year: 3 Silver and 5 Bronze. The new statuettes will join 13 Telly Awards from previous years already gracing the halls of the Pennsylvania-based Catholic company. The 2021 season featured the company's highest number of Silver winners to date.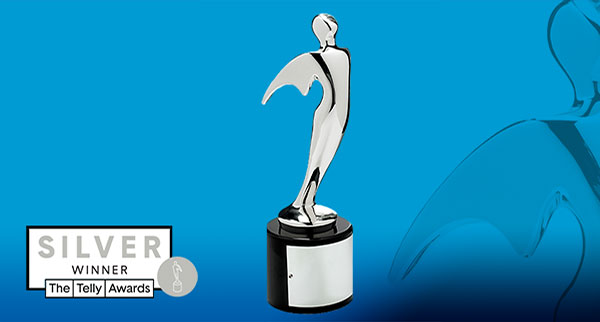 This year Ascension's Rejoice! Advent Meditations with the Holy Family won 2 Silver Telly Awards, a particularly impressive feat given that pandemic travel restrictions forced Ascension's video team to develop alternative filming solutions for many of their video productions. Titles such as Rejoice!, The Ascension Lenten Companion, and Hebrews: The New and Eternal Covenant were each made possible by creative responses to challenging production obstacles.
"The work that our team completed in such challenging circumstances last year was truly extraordinary," comments Ascension President and CEO, Jonathan Strate. "We have a world-class team, and we're proud to see their accomplishments recognized in this way by the Telly Awards program."
The company's Ascension Presents YouTube platform also earned high praise, with videos from popular figures Fr. Mike Schmitz and Fr. Mark-Mary Ames, CFR, winning Silver and Bronze awards, respectively.
Founded in 1979, the Telly Awards receive over 12,000 entries annually from all around the world. This is the third consecutive year that Ascension has been named a winner in the competition.
Silver Award Winners
Bronze Award Winners
About Ascension
Ascension is the leader in Catholic faith formation and digital content. Over the past 20 years, Ascension has helped to nurture the faith of more than 10 million people in 8,000 parishes through their books, Bibles, faith formation programs, chart-topping podcasts, social media, and the Ascension Presents YouTube channel. The company has 60 employees and is based in Exton, Pennsylvania.
Media Contact
For interviews with Owner, President, and CEO Jonathan Strate, or for other media inquiries, please contact Lauren Joyce at (484) 876-1400 or newsroom@ascensionpress.com.